Have you ever tried to develop an eCommerce site? 
Well, if you did try, you know what a complex procedure it is, from the creation of the idea to the implementation of basic functions. However, all these efforts might go in vain if there is no planning to ensure your website's proper functionality. 
There are approximately 12 Million – 24 Million eCommerce websites worldwide. More and more people make online purchases, as a result the number of online businesses increase day by day.  
In addition, Covid-19 contributed to this new online normality by training the customers to shop online. Now, they are aware of the nice customer experience, the good payment methods, and the most trustworthy shipping methods.  
The game is on and the competition is tough. To ensure that your eCommerce store is up-to-date, functional and safe you should check and test it. 
W

hat is eCommerce testing
At this point we should make clear what eCommerce testing means.  
Ecommerce testing is simply the process of testing your ecommerce website and associated web apps. It assists in identifying errors and problems and allows you to offer a smooth experience to your clients. The primary objective is to identify bugs and fix them to ensure quality and reliability. (cloudways.com) 
The objective of testing is to ensure: 
Software reliability

 

Software quality

 

System Assurance

 

Optimum performance and capacity utilization

 

However, a lot of people believe that eCommerce testing is only about security but it's more than that. Ecommerce website testing includes and targets different sections such us functionalities, pages, features on site, in general everything that is related to site performance. These tests can avert errors and add value to your product by ensuring conformity to customer requirements.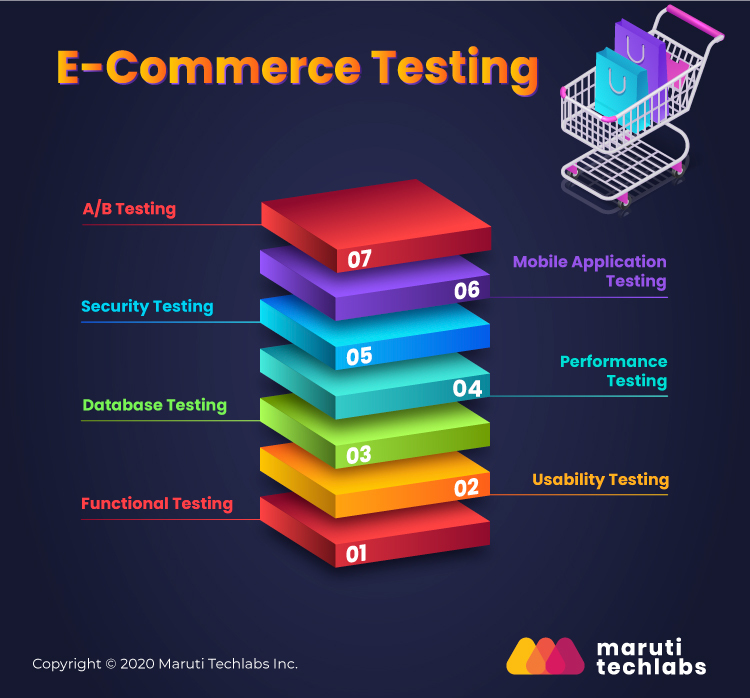 An effective eCommerce testing can make you spot and resolve a big number of issues (technical or not), help you offer your service in a smooth way and reduce financial risks. 


Benefits of eCommerce testing

 
If you are not sure about why eCommerce testing is vital for your business, below you can find some very good reasons to test. 
Ecommerce testing can: 
Improve your e-shop performance

 

Ensure website availability

 
Ensure robust search functionality and fast loading speed

 

Prevent poor shopping cart functionality

 

Prevent misleading analytics

 

Ensure security

 
Do you need more benefits to persuade you? 
I believe that you understood the value of testing and we can proceed to the checklist! 
💡And also… keep in mind that the better the site, the better the business. 


eCommerce testing checklist

 

Compatibility with Different Browsers
This is a crucial test! Imagine you have a functional and user-friendly eCommerce store and some people can't use it because of browser compatibility. Check that you are running in all browsers including Google Chrome, Internet Explorer, Firefox, Opera, Safari, and so on. You should make sure that your clients don't face any technical bugs when visiting your site from a different browser than the one you made your tests.  


After-Order Tests
You should conduct this test in order to see what your customers face when they make a purchase. The elements you can test are to change the order date or address, cancel the order, track the order, and return. 
Secure that these features work well and you will have a quick order page and eventually… happy customers! 
Don't forget to check Login, FAQs and contact page too! 


Performance of Shopping Cart Features
Your shopping cart is customers' last stop before going to the checkout page. It's the final list that they should check before proceeding to the payment. It's a very important page that has impact not only on the customer experience but also on your sales.  
When testing the shopping cart, you should be in your customers' shoes. Try to simulate a common order like them, because this is the only way to figure out what problems they may face. For example, add different products to the shopping cart, then remove products, add new. Check also that the special charges, such as shipping and taxes, are calculated right -according to different location- and are included in the total value of the cart.  
In addition, don't forget that you can also use your shopping cart as a touch point to drive more sales.  
Here's a great example: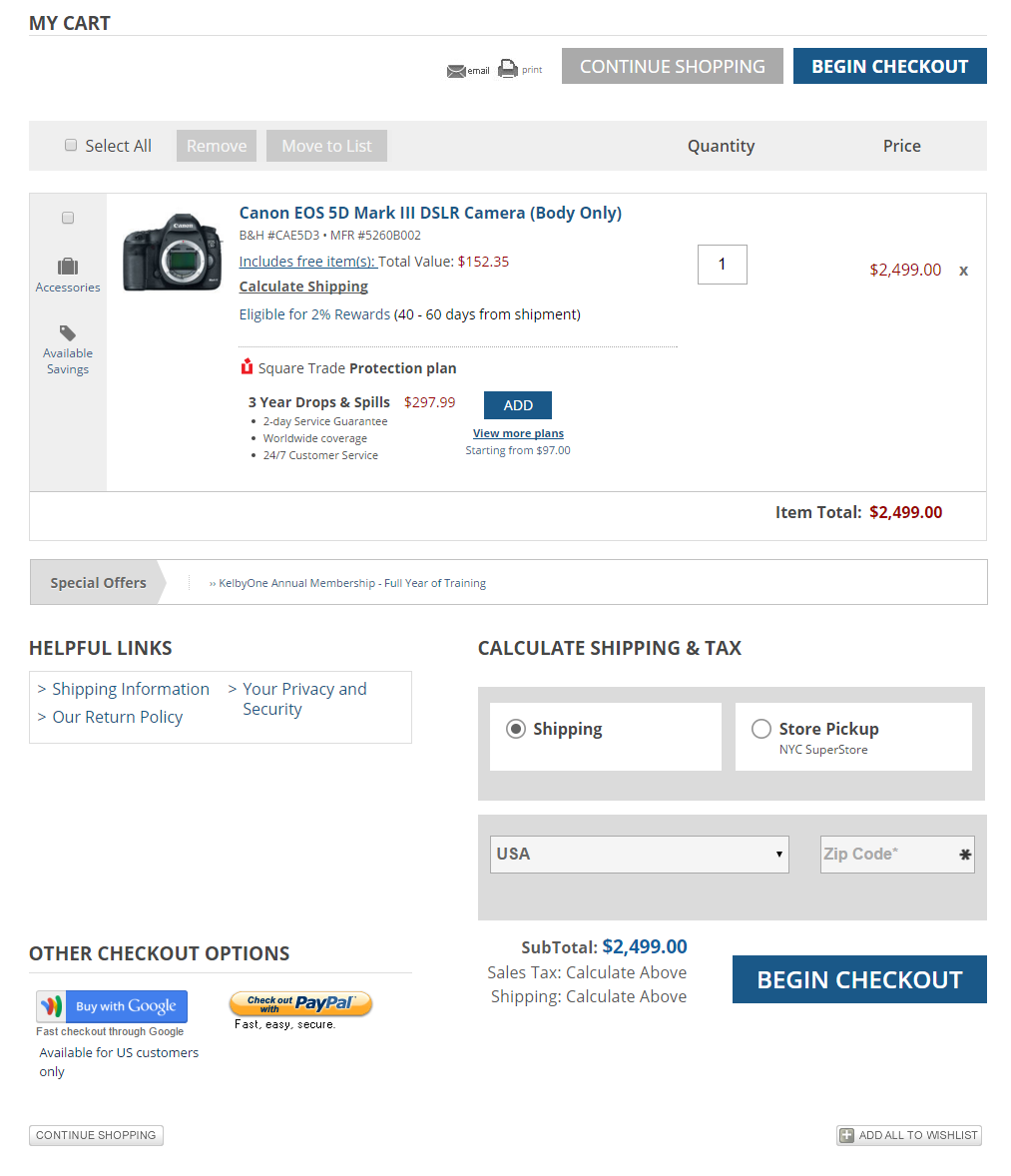 This customer put in their shopping cart a DSLR Camera. But notice how clever the business owner tries to sell more with the recommended protection plan. This is a typical example of cross-selling, which can add more products on the shopping cart and eventually, increase your mean basket value and your sales.  
Moreover, pay attention to the shipping and taxes calculator. See how easy and simple the process can be?! Just check some Zip Codes to be sure that it is functional! 


Page Display
This test seems very simple, but the truth is that behind every page there are a lot of codes that run. Visit your eCommerce store's pages one by one and check for possible incorrect displays on them, runtime error messages, poor download time of a page, dead hyperlinks, or font sizing error. 
🗒Don't forget to check the page display from different devices too! 


Final Checkout Page
Well…you made it! Your customer is so close to purchase.  
Your final checkout page is one of the most crucial of your entire website. If the user gets stuck on this page the possibilities to abandon their cart are very high and all your efforts will go in vain. 
First of all, provide to your customers a number of payment options and not only credit card. Nowadays, customers are trained to online shopping and to the procedures this includes. As a result, they expect to find in your store whatever they found in another one. Choices.  
In case you have ''Purchase as a guest'' option, also check that the procedure works smoothly on them and include a choice to register at the end, nonetheless.  
Let's see an example of a checkout process: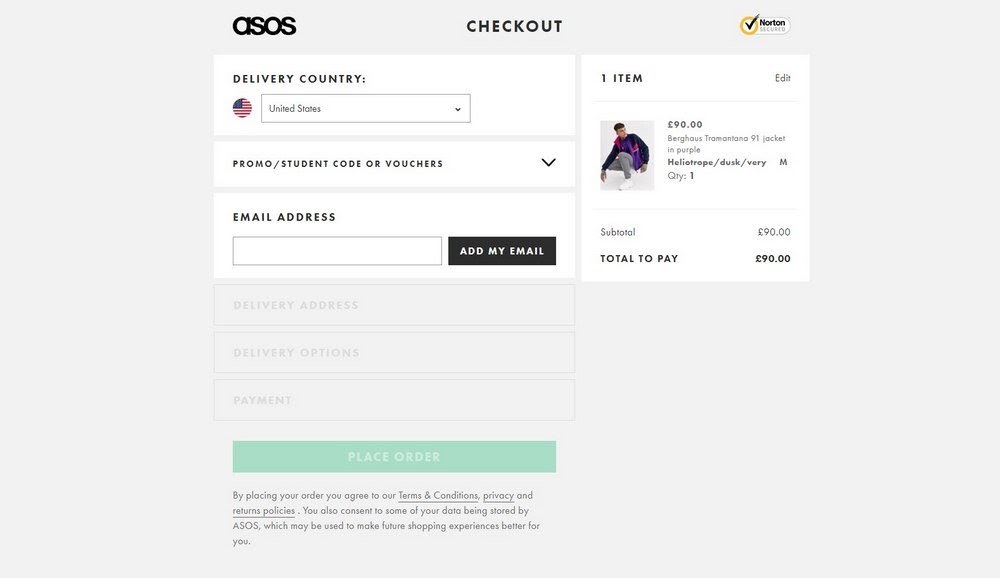 When everything on this page is tested, go to your email marketing platform and check the emails your customers receive.  


Security
An eCommerce testing without a security testing is incomplete. Your site should be able to handle web attacks, transmission of information and viruses. After all, have in mind that you have your users' data including financial information. You can implement tests such as SQL Injection and ethical login hacks. 


Mobile Responsiveness
An increasing number of users are now using mobile devices as a main device for navigating on the internet. In fact, it is estimated that 62.24% of people use a mobile phone in 2021 and that the share of mobile commerce in all e-commerce is predicted to rise to 72.9% in 2021. 
Numbers speak from themselves. 
The opportunity of m-Commerce is huge and maybe you should take a mobile-first approach to your website. The important aspect here is to test the responsive design of your e-shop in mobile devices of different screen sizes. 


SEO
The average person makes 3-4 Google searches per day. Of course, there are other search engines except Google but most people use this one. Search Engine Optimization (SEO) should be a priority for your eCommerce testing. Try to make your store rank on the top of the results in Google. To begin with SEO, go back to your business plan and use the keywords you have already found when setting up your e-shop. 
Focus on your website keywords and optimize your content to be SEO friendly. If you're running campaigns check your keywords there too. 
Pro Tip: Do not forget monitoring your SEO performance often! Only this way you will know which optimizations you need to do. 


Product Description
Good product descriptions are a very important element to make the customers engage with your site. To be more specific, a good description can: 
Improve conversion rate

 

Inform customers about the product details

 

Create value

 

Contribute on SEO

 

Make sure your descriptions are short texts and to the point! Try to check them often and do the appropriate changes! 

Of course, our checklist can go on and on. The above tests are the important one to begin with, mainly technical. 
After you end with the technical part you can proceed to test other elements such as: 
Hero Image in your Homepage

 
Product Details Page

 

Social Media Integration

 

It's a non-stop process! 
Keep it going! 


Wrapping up
An effective eCommerce testing will lead you to satisfied customers and profits increase. Conducting all these tests with success, will make your e-shop a competitive one in the eCommerce world. Don't allow slow speed on pages, inadequacy of payments methods, insecure transactions, and all the other features we mentiones, make you lose marketing and sales opportunities. 
Increase your customers' satisfaction and try to maintain it! 
 
Afroditi Tsaparoglou 
Sales Executive at Reccodo 
References

 
https://www.testbytes.net/blog/e-commerce-application-testing-process/ 
https://www.softwaretestinghelp.com/ecommerce-testing/ 
https://www.guru99.com/testing-e-commerce-applications.html 
https://marutitech.com/guide-to-ecommerce-website-testing/ 
https://www.emizentech.com/blog/ecommerce-website-testing-test-cases.html 
https://www.cloudways.com/blog/ecommerce-testing/#testing 
https://www.optimonk.com/10-impressive-ecommerce-shopping-cart-design-examples-online/ 
https://ecommercebooth.com/best-examples-of-ecommerce-checkout-pages/