eCommerce, or online shopping, as it's noted, constitutes the current reality and the future in the world of shopping. This process of researching and purchasing products or services through the internet by using a browser or a mobile app is valid both for B2B and B2C transactions. And, as it seems, it is increasing in popularity.
More and more people tend to use the internet to access information that is readily available. Consequently, the entry to the online world would be beneficial and crucial for businesses, as it would provide their customers with another easy way to do their shopping.


Let's talk about users
As you can imagine the extensive growth of eCommerce is associated with the extensive use of the internet, but it's better to have a look at the facts.

According to the above statistics, more and more people do their shopping through the internet. In Europe, the percentage of people purchasing online is up to 65% and in Greece this percentage is up to 36%. The differences between consumer behavior, however, depending on gender and age, is an interesting part.




As you can see, people 16-24 and 25-54 years old are increasingly using the internet in order to do their shopping. According to studies, both women and men purchase through the internet. Male users tend to spend more for each of their purchases, but they buy less frequently than female users do. Specifically, women buy on average about 7.1 times a year and men only about 5.4, with the men spending 10 more euros on each purchase.
Business owners need to understand that eCommerce has become a part of peoples' daily life, and that they need to take actions if they want to have a piece of this and enhance their market position.


What about the traditional shopping? In other words, why not in-store shopping?

Obviously in-store shopping doesn't dominate across buyers anymore as it did in the past. The main reason is the convenience of eCommerce, which makes it more attractive for consumers. Let's try to understand a bit better.
Most of the times, the e-shop has more products in their catalog than in-store. As a result, buyers prefer to do their purchases online because they have more chances to find what they are looking for.


In contrast to traditional stores, the working hours of an e-shop are 24/7, so it makes it even easier for the buyers as they can do their shopping any time of the day, even at midnight.


Don't forget timesaving! Everything is simple online. You can easily your research on a website, find the products you want and have them delivered at your doorstep. Some online shops also use product recommendations, to help the customers to find the products they are looking for even easier.
There is no need to make the journey to the store, search all over the place in order to find what you are looking for and then wait in the queue to pay. I think the advantage is obvious! Not only for consumers, who have a busy lifestyle, but also for businesses with online shops that serve them.


People are always influenced by others' opinion, so comments and reviews is a great way to convince someone and convert him into customer. Online, people can read about the services and products of online stores and then make an informed decision and choose where they will purchase from.
The only thing you need to do is make sure that you provide great services to your customers and ask them to review your store online. This will drive more traffic to your e-shop and also drive engagement with your customers.


Don't forget COVID19
Unfortunately, for the last 2 years we have been experiencing a pandemic. This situation changed a lot in our life and daily routine. At the beginning of this pandemic, we had to avoid crowded places, stores, markets and even our workplace. Later on, a lot of them closed following governments' guides.
As various pandemic-related restrictions that prevented in-person activities came up, businesses turned to the pandemic-proof ecommerce sales channels for their survival. The consequence? We became more familiar with the use of the internet!
Everyone started using their computer to fulfill any obligation or purchase and the impact of pandemic on eCommerce is now obvious!
Proof of what I am saying? The following graphic.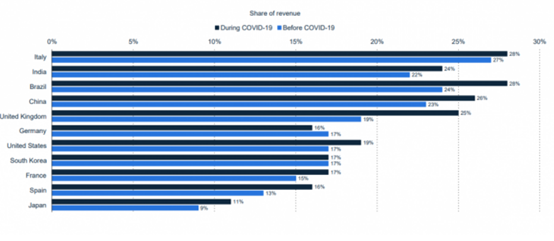 As you can see, businesses all over the world had increased revenue through ecommerce during the -ongoing- period of COVID-19. Furthermore, the number of e-shops has increased at the same period. Do you think that was just a coincidence?
Of course not.
Is a good choice for businesses to turn to the online market?
Take a look at the percentage of unexpected increasing sales for the years 2020 and 2021.
According to these facts, it's the wise choice in order for the business to flourish, especially if we are talking about small or medium ones.
However, if you are interested on a more analysis on the aftermath of covid-19 in ecommerce you can read our previous article on this matter.


Is eCommerce beneficial for my business?
Well, the obvious answer is…yes! But let's talk with facts in order to convince those who are still skeptical.
First of all, eCommerce makes it easier to approach people from all over the world, In other words you can find new customers without any distance limitation. This is helpful because your shop becomes known worldwide so both the order number and your income can increase.


Another interesting fact is that marketing and advertising are more affordable through the world of eCommerce. Printing, distributing, and paying for ad space is certainly not cheap. But if you have a website, marketing online can be as simple as doing SEO. The main reason, though, that online advertising is cheaper is targeting. This means that online you only pay to reach people that are most likely interested in your products, and that is, of course, much cheaper.
Last but not least, governments all over the world give subsidies to enterprises because of the economic consequences in case of restrictions during this period of covid-19. Businesses benefit from these in order to build or update their online shop, by covering all the expenses through this amount. That is a great opportunity to develop your business and you can't deny that!
Wrapping up
We live in era of technological developments which affects our lives, with the internet being the most life changing of them. The transition to online transactions is pretty clear now, especially in combination with current situation and the busy life style , and the following years might engross the marketplace.
It's kind of an evolution actually, and according to Darwin's evolutionary theory "the struggle for existence would allow only those with favorable traits to survive". So, if you want to "survive" in this world that always change, be sure to make the internet your favorable survival trait!


Aimilia Vouzika
eMarketing Enthusiast


References
https://www.trade.gov/impact-covid-pandemic-ecommerce
https://sell.amazon.in/seller-blog/advantages-of-ecommerce
https://ec.europa.eu/eurostat/statistics-explained/index.php?title=E-commerce_statistics_for_individuals
https://ec.europa.eu/statistical-atlas/viewer/?mids=BKGCNT,C06M04,CNTOVL&o=1,1,0.7&ch=C01,C06&center=42.26105,1.25423,2&lcis=C06M04&nutsId=EL6&
https://theonlineshoppingexpert.co.uk/expert-notes/why-shopping-online-is-better-than-in-store
https://www.webfx.com/blog/business-advice/the-cost-of-advertising-nationally-broken-down-by-medium/