What is Social Commerce

 

– Origins
Social media is undoubtedly a part of our lives. Hours per day people navigate through different channels to learn the news from the world, or chat with their friends. The touchpoints on social media are so many that it was about time for eCommerce to take advantage of them.  
And thus, the term social commerce was created.  
Social commerce is a subset of eCommerce and becomes more powerful year over year. It is a relatively new phenomenon which intrigues customers to buy through social media services. When we talk about social commerce, we refer either to the transactions through social media platforms, or to the direct transactions through a marketplace, like Facebook marketplace. 
In fact, Facebook alone saw greater than $80 million of ad revenue pass through its platform, not to mention the direct user transactions through Facebook shops, which are used by 800 million people around the world monthly (Project-disco.org).  
In 2017, only 17%of retailers were using social commerce. By 2018, that number almost doubled to 33%.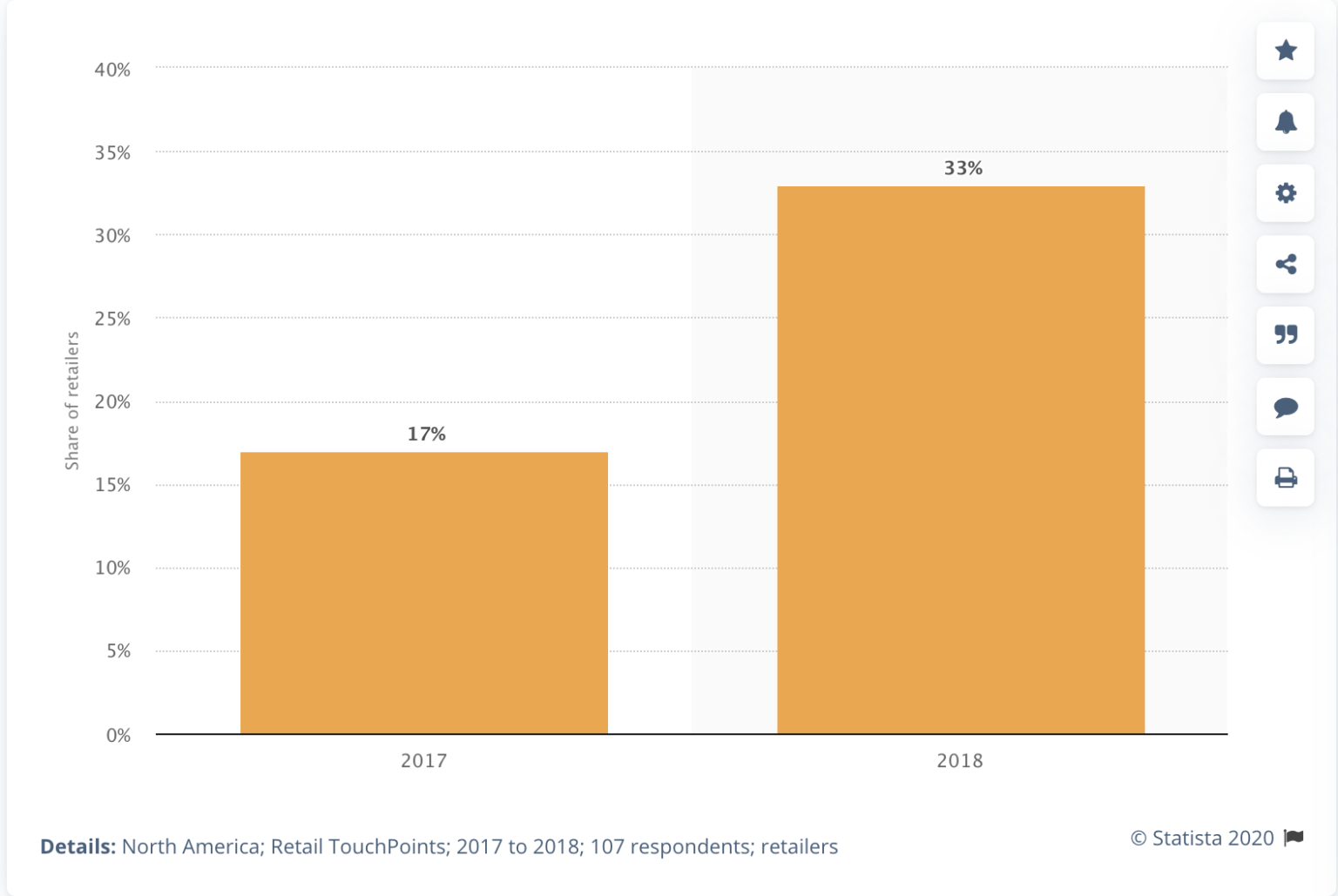 A massive number of small-medium businesses turned their attention to social commerce in order to have a new channel to sell their products. 


Social Commerce Platforms
Facebook
This platform is the primary one if you're just starting with social commerce. Facebook is a complete solution because on its pages you can add the purchase feature directly. As a result, your customers can see your products and buy them and you can even seek for customers' support without liking your Facebook page. 
You can create your own shop (which will be also available on Instagram) simple and without cost. Businesses choose their products, customize the layout and the image, and the product catalog is ready for purchase! 
Example #1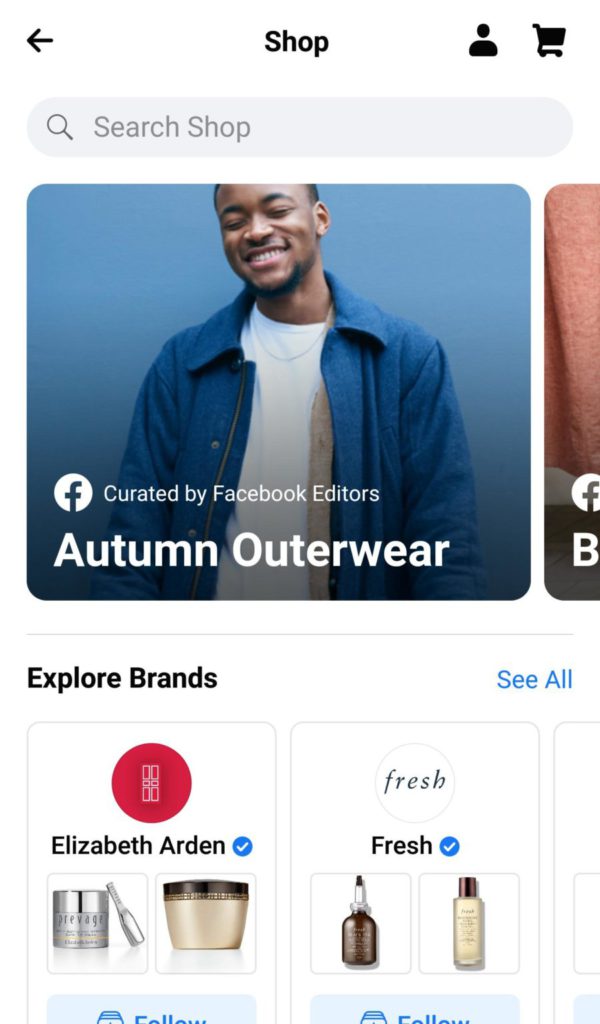 Example #2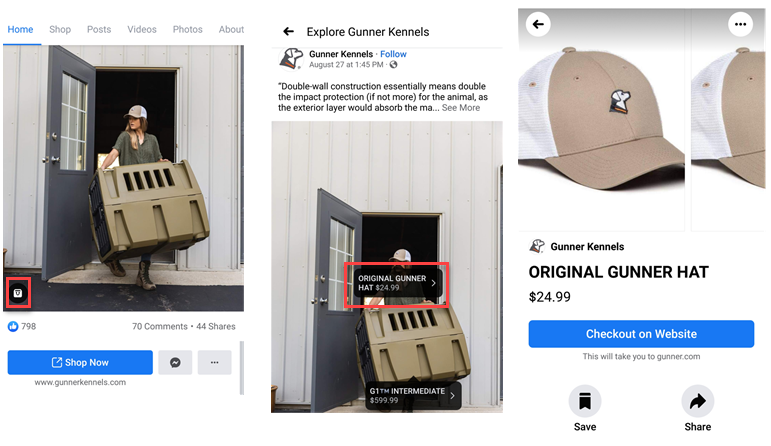 If you have questions about a product you can always make a question directly to the shop online as if you are in a physical store. In Facebook Shops you are able to message a business through WhatsApp, Messenger or Instagram Direct to ask questions, get support, track deliveries and more.   
We are talking about Facebook shops, not Facebook marketplaces! 
Is this clear? No?! 
Let's find out the differences! 


Facebook Marketplace VS Facebook Shop Table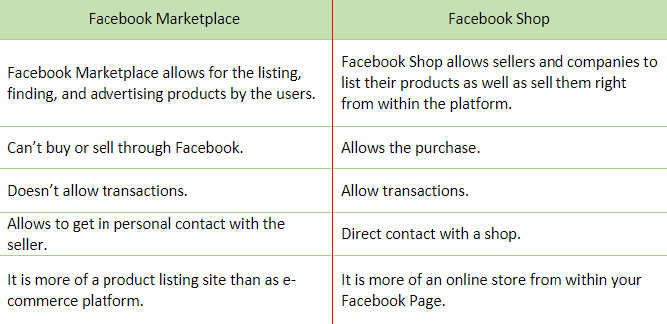 Instagram
Instagram innovated with the "Shoppable Posts'', which is the way for retailers to sell their products through this platform. Using the shoppable posts retailers can tag their products on a photo and drive customers directly to the product page on their website in just one click.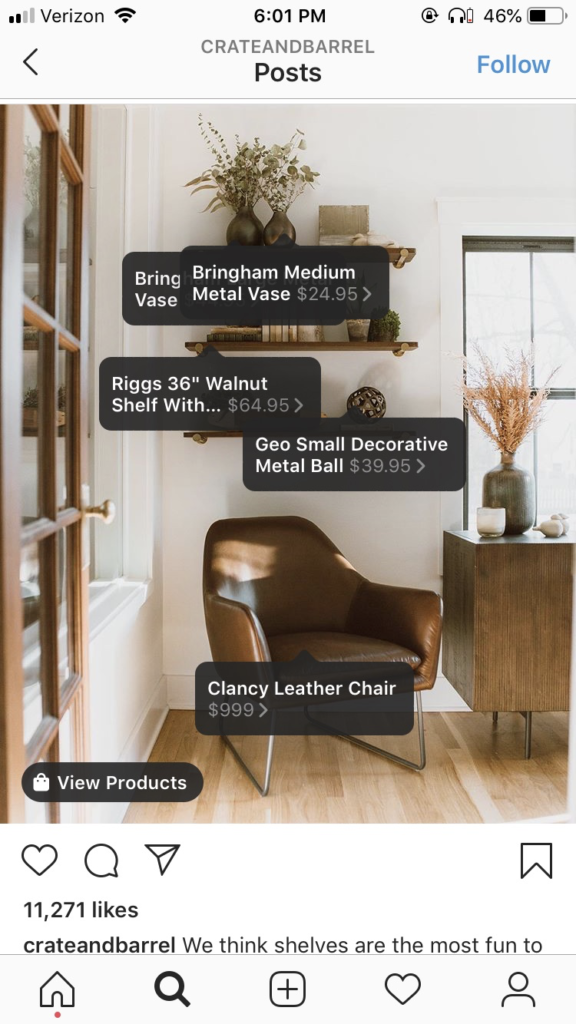 Instagram-just like Facebook- also created an inside checkout to keep the visitors' journey in the app. 

Pinterest
Pinterest published on 2019 as an eCommerce platform. This platform introduced the online shopping with the ''Buyable Pins'', features that allow customers to shop directly from pins. 
Everyday Pinterest gains ground to social commerce and is expected to be the leader of the category!  
How is this possible? Because Pinterest captures 2B searches per month! 
For now, the purchase is not possible directly from the app -like Instagram or Facebook- but it's just a matter of time! 

Snapchat
This is the social commerce platform of Millennials. In 2019 it had over 80M users with an age average between 20-29 years.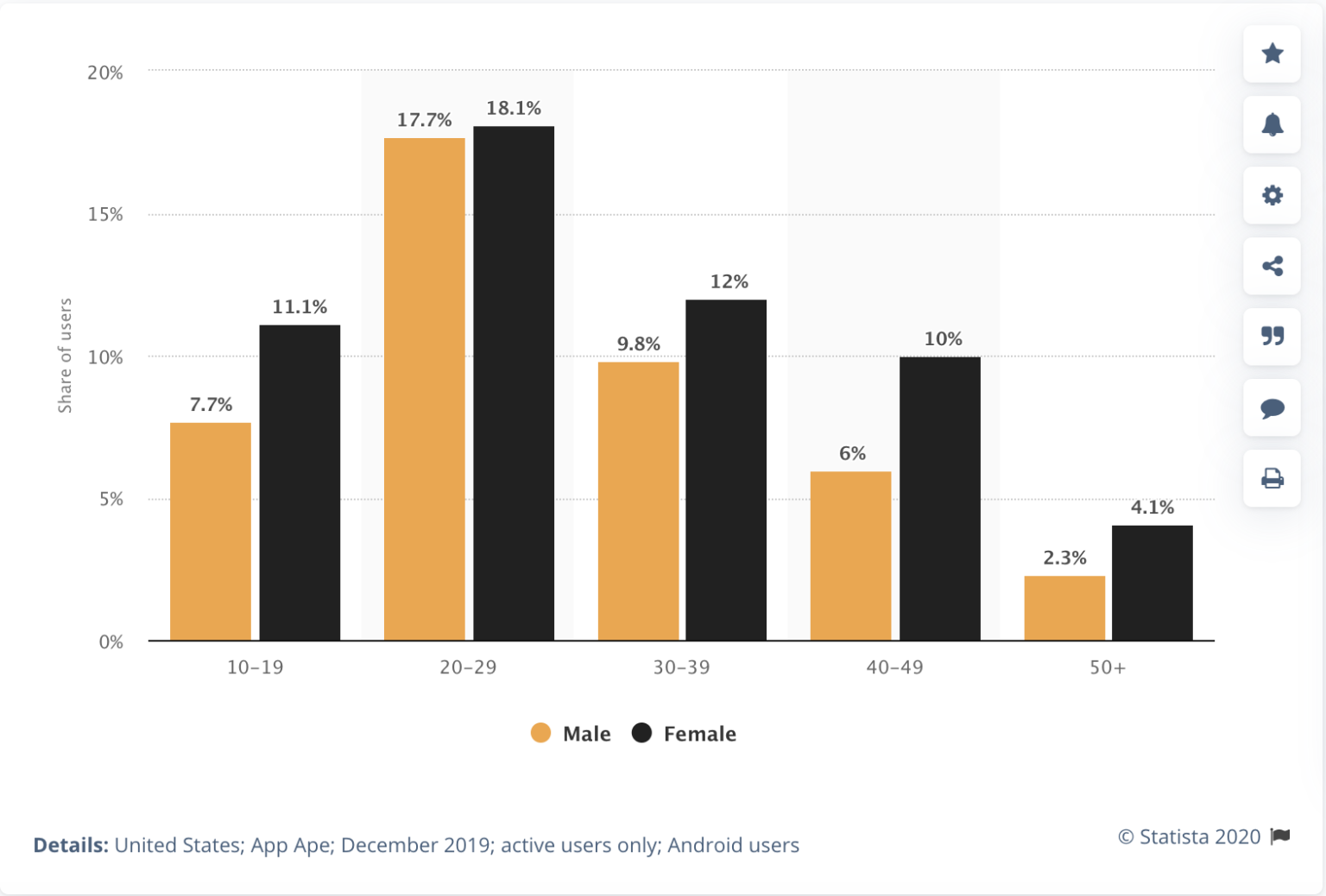 How is Snapchat a social commerce platform?! 
Snapchat launched the Dynamic Ads feature, which give the chance to the retailers to sell their products through another platform. Since Snapchat refers to Generation-Y, a generation that wants to be treated in a unique way, dynamic ads allow automated personalization close to their interests and with high relativity.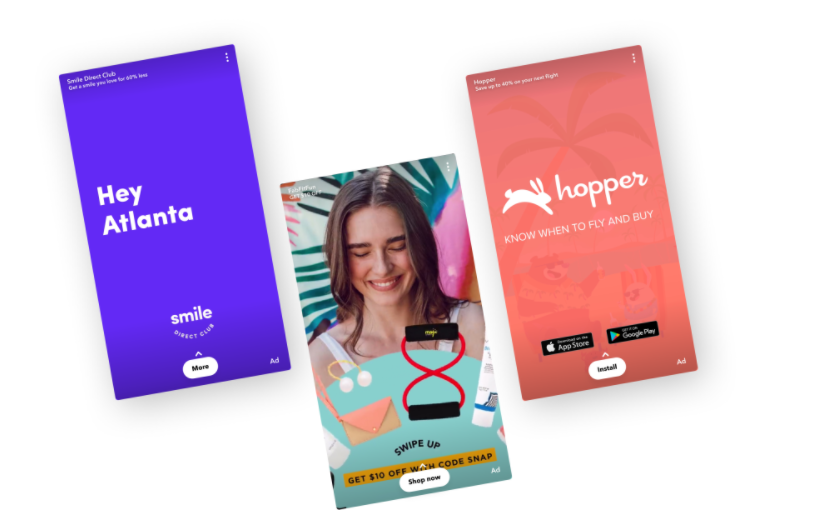 Tik Tok
Tik Tok was known for the creation of short-videos, until the end of 2019 when it dove into social commerce world, allowing some users to add links to ecommerce sites from their profiles. 
Many businesses saw out the opportunity to create another shopping point.  
The reasons are simple.  
Tik Tok's audience includes t

wo

 generation

s

 

-Generation Y and Z- which are the future. 

 

Tik Tok provides a visual experience to the users with a real video of someone try

ing

 the product. 

 
The content is massive, and the communities are getting bigger day by day! 
Last but not least, the creators of Tik Tok proceed to a very smart partnership. In October 2020 TikTok announced a first-of-its-kind partnership with the e-commerce platform, Shopify. 
To be more specific, business owners can connect their TikTok for Business account with their Shopify account and sell products on TikTok via in-feed shoppable video ads. In addition to this, the whole process is very simple because it can managed via Shopify's dashboard. 
And the best part, especially for the marketeers? 
A specific pixel called ''TikTok Pixel'' is created to track conversions driven from the Tik Tok's campaigns! 

But…

do

 all the above help you gather 

valuable customer data

?

 
With no doubt social commerce through all these platforms serves revenue increase and customer support. Some of these platforms have its own Pixel in order to get the user's cookie and allow you to target them again on a remarketing campaign.  
All these information are useful but you should not forget the most important tool to gather information – your own eCommerce platform that will actually help you build your marketing strategy! 
You can gather rich insights from your website. Your users' preferences and purchases are all there to take advantage of them. And the most important? These insights refer to the complete customer journey. 


For example, you can: 
See where your visitors came from

 to your website

 

Monitor the pages they visited

 

The duration of the visit

 

The point that they bounced your website

 

The point 

they 

converted 

 

When 

they 

abandoned their cart

 

Which are their needs and 

p

references

 
By collecting all these data and analyzing them, you can proceed to your website's optimization to improve your conversions. In addition, you can target your audience depending on the stage that they are on your funnel. 
Different tools and platforms can be of use to get these insights! 
Google Analytics is a very good way to understand your customers as regards visit duration, bounce rates, conversions and many more!  
But, what about their needs and preferences that arise from a search bar or a product carousel? 
In this case, instead of just following up on what your customers viewed or purchased in order to make marketing campaigns, you can take action on the spot with personalized product recommendation widgets and increase conversion and engagement. Moreover, you can make their research on your website easier through a personalized search bar.  
Reccodo is an AI based eCommerce Personalization Platform that understands your customers' needs and wishes. Based on the information it gathers from your visitors' behavior, it shows the most relevant products to them, the one that will convert them into buyers. Moreover, based on their search history and persona, it gives the opportunity to already engage with them from the search bar!  
Of course, you can gather important data both from the clicks on the recommendations and the search queries on the search bar. For example, you can see what people are looking for in your e-shop and create campaigns for these products or maybe add products on your portfolio that you didn't have before, but people want to buy. 
Keep in mind that personalized product recommendations can really help you with customers' retention. 
Data are the key to understanding what your customers want. And by having this knowledge you can grow your business further.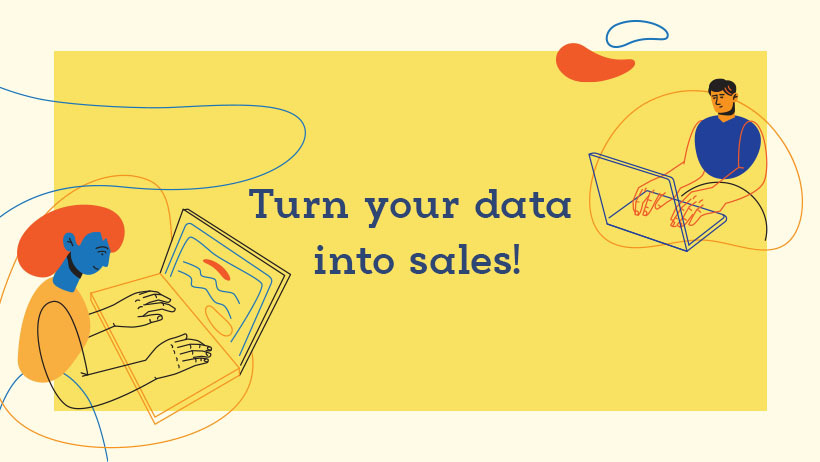 Feel free to contact us to help you grow your business through personalized services! 
Wrapping Up

 
Social Commerce is here to stay!  
The need of social media platforms is essential obvious, especially for  new generations. Businesses that already have an online presence turn their interest to social platforms to engage more with potential customers. 
Grab the opportunity of social commerce to open your channels and approach more customers. 
But don't rely only on this because your most important online showcase is still your website. You just to combine them for the best results.  
Let them work together and take advantage of their benefits! 
Are you ready? 
References
https://www.project-disco.org/innovation/091718-social-commerce-details-data/?gclid=Cj0KCQjwgtWDBhDZARIsADEKwgNpUQALB0BmxgeAWBa1V02WuqdywOhxvbRXTp5wsDdVFu5GwFTA38MaAsDVEALw_wcB#.W6FZHf5Kg8Y 
https://www.klaviyo.com/blog/social-commerce-strategy#unique 
https://www.thedrum.com/news/2021/03/03/tiktok-facebook-snap-pinterest-and-twitch-reinventing-shopping-with-social-commerce 
https://forbusiness.snapchat.com/ 
https://later.com/blog/tiktok-shopping/ 
https://pattern.com/blog/how-social-shopping-on-instagram-and-pinterest-drive-ecommerce-sales/ 
https://business.instagram.com/shopping/setup 
https://www.feedough.com/facebook-marketplace-vs-facebook-shop/#:~:text=Facebook%20Marketplace%20allows%20for%20the,products%20on%20the%20Facebook%20Marketplace. 
https://adespresso.com/blog/facebook-shops/ 
https://www.digitalcommerce360.com/2021/02/10/social-commerce-is-leading-the-future-of-ecommerce/ 
https://www.the-future-of-commerce.com/2021/01/12/what-is-social-commerce/ 
Afroditi Tsaparoglou 
Sales Executive at Reccodo