The rise of eCommerce brought new tools for online shopping. As the internet evolved, companies started using it to give information about their products and services and advertise them.

The data were many. Through the internet evolution, humans invested on new innovative technologies, such as artificial intelligence and machine learning, in order to turn these data into sales. One of the results of this process was the product recommendation engines.
Recommendation engines can really contribute to your e-shop, both on customer experience and sales. The ability to activate and retain customers through these engines is significant. In fact, 56% of customers are more likely to return to a site that offers product recommendations.
As the generations go by, personalized shopping experiences become a must-have on eCommerce websites. In order to have a clear understanding of the importance and utility of product recommendations and how they improve the customer experience and conversions, let's first have a look at what they are exactly and how they look.
What is a recommendation engine exactly?
A recommendation engine is basically a system which suggests relevant items to the customers on an online shop. Of course, an engine like this can be used not only on eCommerce market suggesting products, but also on news sites recommending services or information.
People are more familiar to recommendations while they do their online shopping.
How many times have you seen an image like this?


Many, right?!
However, there are many areas in music or cinema that use product recommendation engines based on the historical behavior of the user or behavior of similar users.
A typical example is Netflix platform.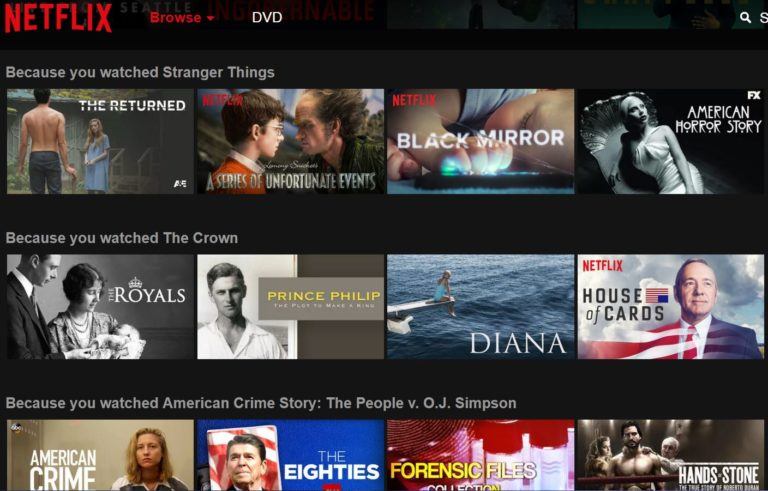 With no doubt, if the implementation of the product recommendations is configured properly it can bring benefits to both business owners and users. A good recommendation engine should be adjustable and reflect each business priorities and sales strategies.
In this way the results will be noticeable! The traffic of the returning visitors will be increased and your conversions will be boosted!
And if you are from those business owners that are skeptical about the efficiency of product recommendations just check out some of these statistics sourced by Invespcro:

Here are a few metrics that can measure a product recommendation engine's performance:
Conversion rate for people who viewed your recommendations.

GMV/1000 recommendations

a.k.

a

the

average revenue per 1000 recommendations.

CTRs

a.k.

a

the

ratio of users who click on a specific link to the number of total users who view a page

.

% of revenue through recommendations

Number of products

viewed

t

hrough the

recommendations
By improving your product recommendations quality, you will notice an increase on the above metrics and also on the customer experience you provide to them.
Ready to increase your sales by recommending products?!
Here is how to do it!
#1

Personalize

your product recommendations
Personalized product recommendation widgets suggest different products to each user based on their past behavior on the website. The time they spend on a page and the search terms can help you get useful insights about your users and finally create customer personas.
Product recommendations are good to present to your customers popular products and trends but by making these recommendations personalized you will be able to catch the ''long-tail'' items. The data are many. You will need advanced technologies such as artificial intelligence and machine learning to process all this information.
At this point a good question will be…What happens in the case of new visitors?
Each situation needs a Plan B! If there are not enough data for a user, the recommendation system will "fall back" to a more general recommendation (like best-selling products).

Either your visitors are new or returning, a good personalized product recommendations engine will do the job for you and suggest accurately products to each situation.
#2 Zero result and 404 pages
This kind of pages can destroy the good customer experience you've created with effort. When a customer lands on a page like this, the customer's session will end and you've just lost a potential conversion.
However, there is a way not only to keep your customer experience high, but also to drive conversions even on error pages. Implement personalized product recommendations and make your customers continue browsing on your e-shop.
Let's have a look on One King's Lane online store: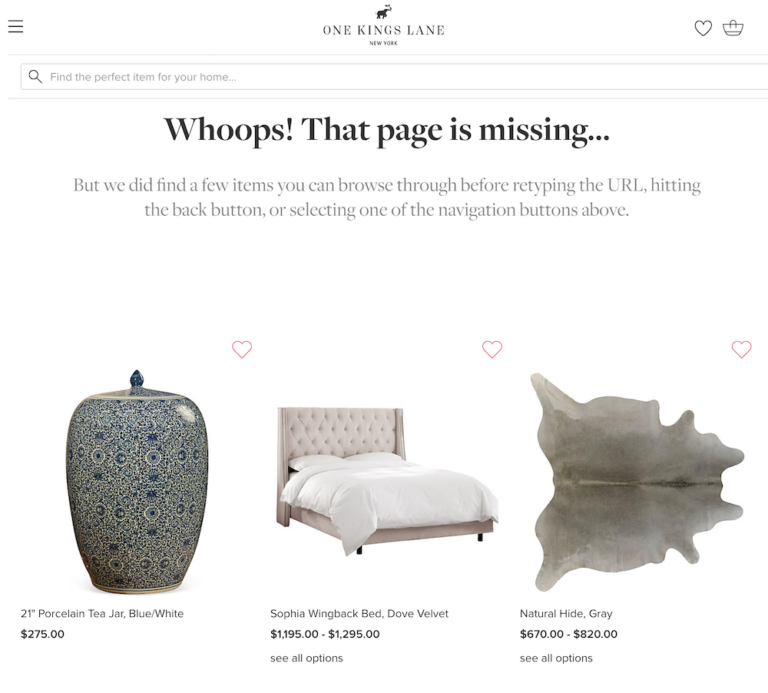 It took advantage of its personalized product recommendation engine to decrease the bounce rate of error pages.
Pretty clever, right?!
#3 Allow users to give feedback on the

recommendations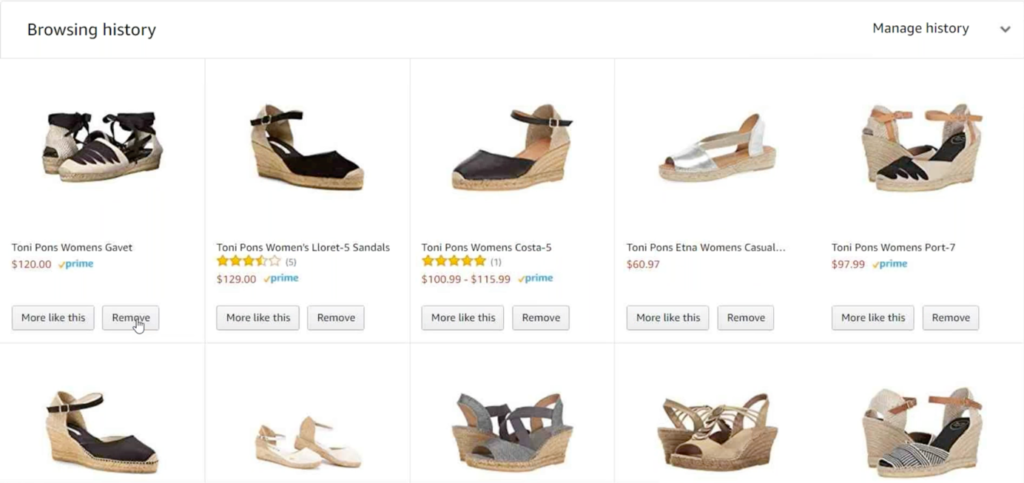 As you can see from the screenshot, they can manage their data by editing the browsing history data.
#4 Cross-selling
Often, customers don't know what extra they might need when they've already bought something, until you show it to them. That's the point of cross-selling – the additional sale. For example, if a customer buys a mobile phone, it's very possible to also need a mobile case or screen protector (if it's not included on the package). A good recommendation system can predict possible product combinations and make them a bundle.

Use "Frequently bought together" recommendations to increase average order value (AOV) and improve the UX.
#5 Never stop

monitoring your widgets

.
Even if you have the best product recommendation engine it doesn't mean that no additional configuration is needed. A/B testing is the simplest and most effective mean to determine the best content in order to convert visits into sign-ups and purchases. Knowing what works and what doesn't, helps convert more leads.
Test your product recommendations to optimize your conversions! Below you can find the elements to begin your testing process!
Widget title

.

This is an important element for your widget! A good title gets your customers

'

attention and lead

s

them to explore the products on the widget.

CTAs

.

Design variables of the ''Add to Cart'' button and see which colors or fonts make the users

click on your product.

Placements

.

Test the placement of your widgets within a page and try to change the direction or the view.
Normal recommendations vs Bundling

.

Not all recommendations fit in every page. Test

different sales strategie

s

on different pages,

such as bundling or upselling

, to see where they have the best results

.
Let the experiment begin!
Wrapping Up
Product recommendation engines are very powerful.
When are well-executed, they can increase conversions and improve the customer experience. It's also important for the business owner to understand that in order to maximize their profits they should also invest on new technologies, which will help them stand out from their competitors.
This translates into metrics that are harder to measure, but are essential to online businesses, such as customer satisfaction and retention.
Technology has provided businesses with new intelligent technologies to help visitors through their journey on their online stores. Grab the opportunity and take advantage of them!
You can start now with Reccodo!
Reccodo's personalized product recommendation engine can provide your e-shop with recommendations tailored to your customers' needs, so that you can treat every customer in a unique way!
Feel free to contact us!
Afroditi Tsaparoglou
Sales Executive at Reccodo