Consumers prepare for Black Friday and Cyber Monday months ago by saving money or being patient and waiting until November to do their shopping.
But how important are these two days for your e-shop?
Black Friday and Cyber Monday tend to bring Christmas purchases forward in November. In fact, retail footfall fell 2.5% in December year over year, with the two weeks before Christmas to be noticeable down in purchase rate. (Springboard)
E-shops create the feeling of necessity and consumers just can't lose the big offers. These days constitute a great opportunity to also shop for Christmas, hence your e-shop's traffic is going to increase drastically. You should organize a Black Friday – Cyber Monday (BFCM) campaign and run it weeks before those days. Getting your campaigns sorted ahead of time gives you the opportunity to focus on delivery processes during that period.
So…grab a cup of coffee and check out the best eCommerce hacks for BFCM!
1. Create a specific offer only for BFCM
For a lot of retailers, setting offers to their stores is more like mathematics. A balance between what you give and what you get. In many cases the offer is a specific product which is in stock or a product which attracts more customers to visit the e-shop. You should select carefully and strategically your product sales.
This year Black Friday and Cyber Monday will be different due to the pandemic. It is known that during BFCM season retailers promote their best sellers but in 2020 the market focuses  on the products that are in high demand. In a survey made by Shopify, it was found that 38% of Shopify merchants are going to introduce new products in this year's BFCM because of Covid-19.
According to Shopify data, the top trending product categories since lockdown in March are:
Indoor and outdoor furniture
Home office equipment and accessories
Board games and puzzles
Exercise equipment
Self-care and beauty products
Leisure wear
Of course, this doesn't mean that an e-shop should change its merchandise. Just give priority to these product categories if they pre-existed.
The competition in retail is huge. Everyone is trying to have bigger offers just to distinguish from their competitors. However, maybe you cannot afford to have similar discounts or product sales. In that case, try offering a flash sale which will not affect your profit margin. Keep in mind that even though BFCM is a good chance to increase your sales, it should not create loss to your company.
2. Have a BFCM landing page
Building an appropriate landing page on your online store for BFCM should be in high priority on your checklist. Each marketing action, such as Google Ads, Facebook Ads, email marketing, will be redirected to this page.
Ao.com created this landing page especially for the occasion. As you can see, the page includes offers, announcements and a CTA button, which directs the consumers to purchase.
When the time comes to create your landing page, pay attention to the actions below:
Headline and content
Background picture, video and theme color
Call to action
Mobile layout
There are many templates you can use to build a landing page customized on your e-shop's .
Just start the search and be creative!
3. Content Personalization
Customer experience is the key to building loyalty and enhancing the returning visitors rate on your website. Focusing on your on-site personalization via product recommendations is the best way to achieve this. According to a recent study, 52% of e-shop customers said that they would like to receive product recommendations. (Salesforce)
And this number keeps increasing! Personalization can be your secret weapon in engaging with your customers and increasing your sales.
At the beginning, some of your website visitors will be anonymous and some of them not. In the first case your recommendations will be based on current trends or on your best-selling products. After some , algorithms will have the behavioral data to create the user persona and display the most relevant products.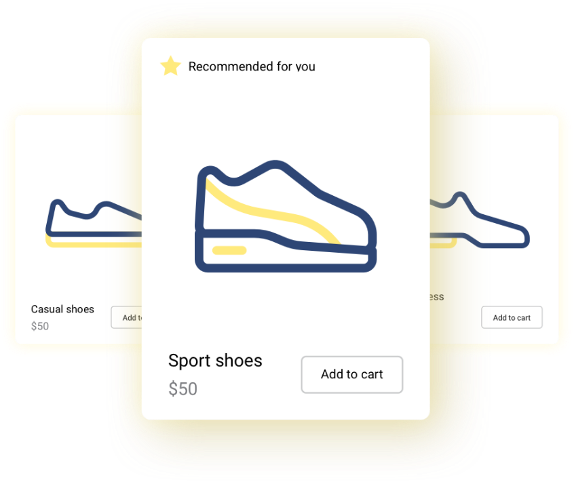 There are many pages in which you can implement the personalized products recommendations, such as:
Homepage
Product Page
Category Page
Check-out Page
Choose a page and start creating your widget! Once you finish with your widget's CSS part, you should decide which recommendation strategy you are going to follow. Cross selling, up selling, push a brand or push a stock are some options!
Reccodo is a personalized product recommendation engine which boosts your sales and improves the customer experience.  With Reccodo each customer views products relevant to their needs and wishes, therefore products which they are more likely to buy. This is based on the creation of different personas with AI algorithms.
Let's give a big round of applause on email marketing. 👏 Over the Black Friday 2018 weekend, email was a key sales driver at 24%, compared to 18% from organic search and 1.1% from social media. (Adobe) The numbers speak for themselves with email marketing playing an important role in your e-shop sales during BFCM.
Here are some tips to skyrocket your email marketing strategy:
Try creating a sense of mystery and buzz around your upcoming sale. Set up this campaign weeks ago.
Send warm-up emails until the big day. These emails will work like reminders to your special offer.
Tip: Send your emails early, in order to avoid being treated as spam by service providers.
Create an email automation in which you will send a "Thank you" email each time your customer does a purchase.
Don't forget to track the visitors who abandoned their carts and target them via email personalization.
Regarding consumer neuroscience, people have the feeling of urgency and scarcity during the shopping process. You will find out that many customers have the fear of missing out (FOMO) an offer and they don't want to risk it.
By counting down to the time the sales start or finish, you actually make your customers impatient buying from your store. You somehow "force" product purchase. With this timer you will have conversions quickly, providing at the same time a pleasant customer experience.
Here is an example of a countdown timer:
You can adjust your timer on the basis of hours, minutes, seconds or weeks. As regards the design and offers, there are many platforms in which you can customize everything! Once your countdown timer is ready, share it via newsletter or as a pop up on your website.
6. Social media and hashtags
Promoting Black Friday and Cyber Monday on social media can really contribute to your sales. Social media are the top platforms to promote festive messages such as BFCM, competitions, giveaways. The majority of your customers follow you on social media, therefore, these platforms are suitable to communicate your message and make noise.
Firstly, create and schedule your Black Friday social media plan. This is very important but also a pain point for many companies.
A great social media plan should define:
Number of posts
Content
Images and graphics
Posts timeline
Posting hours
Build a mystery for your Black Friday offer step by step until the time you decide to reveal it!
💡Keep in mind that maybe your pick day is Cyber Monday and not Black Friday if your market is in USA or Canada. The reason is that Black Friday is one day after Thanksgiving, which is a national holiday and the researches revealed that consumers tend to buy online during working hours.
If you want to level up your brand on social media during BFCM use the power of hashtags like #CyberMonday, #BlackFridayDeal, #BlackFridayWeek, #CyberWeek, and many more to gain more exposure.
7. Mobile phone optimization
Set up your eCommerce store to be mobile friendly is essential. Mcommerce is the continuation of eCommerce and the future trend.
People tend to choose mobile devices for shopping online. Your job is to optimize your store for these users. If you don't, you are at a serious risk of losing 52% of your buyers.
Haven't I convinced you yet? 🤨
In 2019, 69% of sales on Shopify were made on phones or tablets, while just 31% occurred on desktops. Ecommerce world expect this trend to continue. For a store owner this means creating a high-level customer experience on mobile devices too.
8. Stay connected after BFCM
But what happens when all this celebration ends? Well, it's not the end of the world or the end of your sales. Customers you earned from Black Friday and Cyber Monday may become loyal to your brand and Black Friday was just the beginning of their purchase journey.
Take steps to maintain their interest and nurture this relationship. Include them on an email marketing campaign and them using different types of content. The key to engage with them is to give value on each communication. For example, create an eBook with useful content and share it, or announce a specific promotion.
Don't forget the Thank you email as a follow up email in case someone convert with your e-shop or sign up to your newsletter.
If the above actions went in vain then you have one option-remarketing. Use retargeting pixels to bring your customers back to your website and expose them again and again to your latest products.
Cheers to a successful Black Friday Cyber Monday! 🥂 Either this is your first Black Friday or not, prepare and plan your marketing strategy weeks before. Have in mind the market and the timelines. Retail market changes day by day. Find the opportunity and quickly pivot your marketing strategy if needed.

Fingers crossed and go for it!

Afroditi Tsaparoglou
Sales Executive at Reccodo