Personalization in eCommerce is a hot topic nowadays. E-shop owners have the opportunity to deliver personal experiences on their sites by dynamically presenting product recommendations or specific offers based on previous actions, browsing behavior, purchase history, and other personal data.
Personalization is important to businesses seeking to increase their conversion rate, repeat purchases and engage their customers.
However, most businesses don't fully understand how to best utilize it yet, and some other believe that it is just a trend with no real results.
But what is the truth behind? Can a personalized recommendation system boost your sales?
Let's have a look at the recommendation system of the most famous e-shop and how it has succeeded through time.
Amazon's Recommendation System
In 2019 Amazon's total annual revenue $280.5 billion. Also, an estimation for 2020 is to touch $334.7.
In 2015, they generated 107.1 billion in net revenue.
In 2019 they generated $280.5 billion revenue.
35% of Amazon.com revenue is generated by Amazon's recommendation system.
The company uses two approaches regarding product recommendations.
On-site product recommendations
Off-site product recommendations (via email)
In this article we will focus on on-site product recommendations, as they can be very successful for every e-shop. There are many different types of product recommendations. We will go through them with the help of Amazon e-shop.
"RECOMMENDED FOR YOU, THOMAS"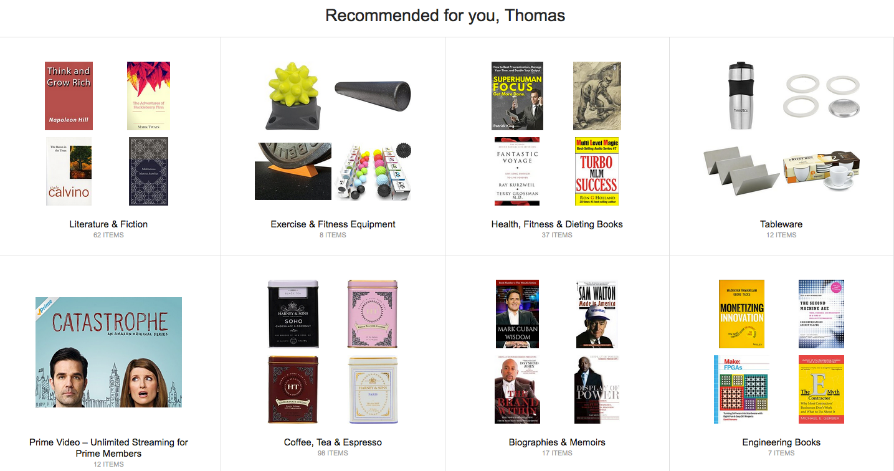 This recommendation presents products from different categories, which Amazon believes are more possible for the user to buy or maybe they would like to see details about them.
FREQUENTLY BOUGHT TOGETHER

This widget provides customers product suggestions based on the items that they are viewing at the moment. Actually, these are the items that other users have bought together before. This kind of product recommendation works very well in cases of upselling or cross-selling, and results into increase of average order value.
YOUR RECENTLY VIEWED ITEMS AND FEATURED RECOMMENDATIONS – INSPIRED BY YOUR BROWSING HISTORY

Based on your browsing history, Amazon recommendation system can provide you with featured recommendations. They call it "Inspired by your browsing history" and it is literally inspired by your choice about item shape, color and size to give you recommendations.
BROWSING HISTORY

In this carousel, you're going to see products that you have already viewed in the past, in case you want to buy them in the present.
RELATED TO ITEMS YOU'VE VIEWED

This widget displays products similar to the ones you viewed in the past to give you some more options.
CUSTOMERS WHO BOUGHT THIS ITEM ALSO BOUGHT

This reminds us of the ''Bought Together'' philosophy. This widget has one purpose, to increase the average order value in an upselling and cross-selling manner. It helps inspire the users to buy more products that could be useful to them.
HERE IS A NEWER VERSION OF THIS ITEM

Using this widget, you remind to your customers that you give them value. You keep them informed about the newer versions of products and give them the chance to choose what they want. It helps boost the customer engagement.
RECOMMENDED FOR YOU BASED ON A PREVIOUS PURCHASE

Remembering your customer's taste and choices is one of the most valuable characteristics of a physical shop. This is how this recommendation works, it provides the user with product recommendations based on their latest purchase (cross-sale oriented).
BEST-SELLING IN "CATEGORY" – 'DISCOVERY'

Best-selling widgets give the customers a chance to explore items from different categories and inspire them for more purchases. At the same time the e-shop owner gets good opportunity for up-selling and cross-selling.
How Amazon's Recommendation System works
There are two algorithms in which Amazon's recommendation system rely on:
Collaborative filtering: find customers with similar transaction history and recommend the top products bought by similar buyer to the shopper (user based).
Content-based filtering: the target is the item and not the customer. Recommendations based upon items that the user recently viewed (item to item).
The algorithm Amazon uses is called ''item-based collaborative filtering'' and was introduced in 1998. It is a combination of the two approaches presented above. This algorithm can be part of the homepage, product page, category page or check out page and makes each customer feel unique.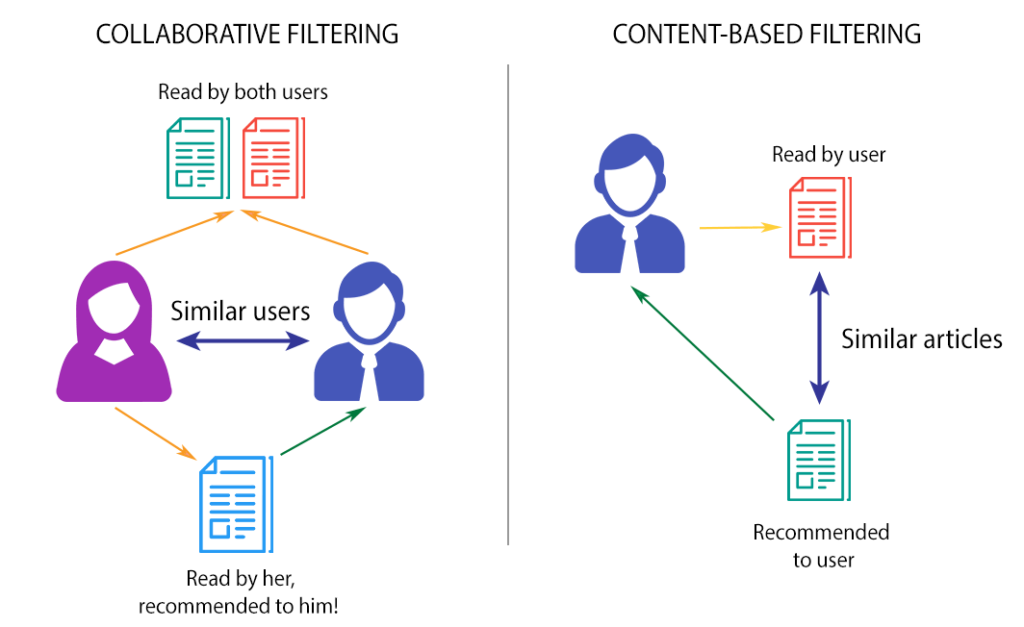 Each customer views a different product recommendation based on their interests. Just like in a physical store the clerk would recommend you products based on your descriptions, in the same way Amazon creates a unique online store for each user.
Amazon not only presents products based on customers interests, but also utilizes the purchase histories of other people, that purchased the same product.
Have a look at the following flowchart to understand how the list of recommendations is built.
Each recommendation widget is based on several variables, including but not limited to location, recent purchases, trending, saved items, bargains or discounts, purchases other customers have completed after viewing similar products, user reviews, curated top picks for customers.
As expected, the engine improved over time and solved some issues that had occured such as:
Which recommendation algorithms to present and in which order (a.k.a ''learning to rank'' problem in data science)?
Diversity. How to show a diverse selection of items in the product recommendation?
For the current technologies, these are now a piece of cake!
What are the benefits of a product recommendation engine?
-Recommending products
-Retargeting profile
-enriching subscribers
-higher conversions
-Increase revenues
Recommendation Systems and ROI
According to a Forrester study, 15% of the visitors buy recommended products. The personalized experience is the key here. Imagine being in a physical shop. You want a seller who pays attention to you and suggests products based on your taste and desires.
Everyone wants to be treated as an individual. A product recommendation engine does exactly that on your e-shop, so that your customers feel unique. In a recent study in which 2000 US and UK consumers were surveyed, it was found that 73% of customers prefer personalized product recommendations.
In addition, cross-selling product recommendations is a good revenue generator. You can easily recognize personalized widgets by phrases like: Frequently bought together or People who bought this also bought. Offering extra products means increase basket value and boost conversion rate.
According to Mckinsey, cross-selling techniques increase sales by 20% and profits by 30%. Mckinsey also estimated that 35% of Amazon's consumer purchases come from product recommendations.
During a year and by the end of June 2019, Amazon's revenue was $252.063B, a 21.11% increase year-over-year. This partially attributed to personalized recommendations. Amazon's recommendation system provides product recommendations during the entire customer's journey to maximize the order value.
But with which way can we measure our ROI from product recommendations?
Every value can easily be measured by evaluating metrics. Below you can see two metric categories, which affect the ROI of product recommendations.
Interaction
Click-through rate (CTR)
Conversion rate overall (CR)
Conversion rate per user
Business Impact
Proportion of orders with recommendations
Recommended items per order
Increase in average order value
Increase in revenue
Increase in customer retention
Recommendations vs sold items
In this point it should be noted that every business focuses on their own metrics. Creating your personalized roadmap means making your own unique recipe of how much, or how little, you will rely on each metric. Each business should understand where and how they want to personalize their site visitors and define their own strategy.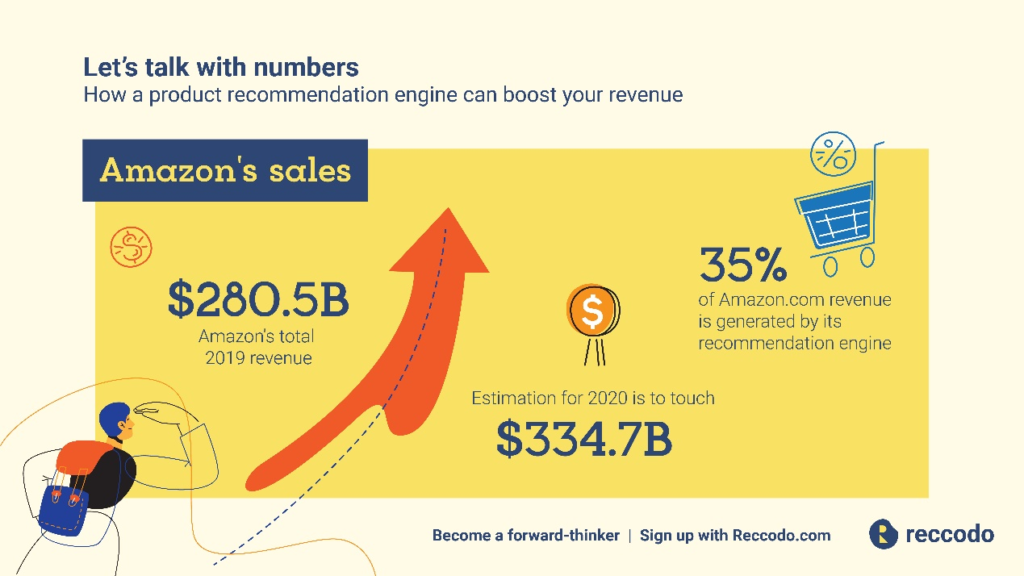 Conclusion
In Reccodo, we envision a product recommendation system like a virtual personal shop assistant who is available 24/7. The digital transformation has already begun and the e-shop owners, who are forward thinkers, will be the ones to succeed.
We understand how a product recommendation engine works and the benefits this service has and can have in the future. In the digital era we live in, everyone can stand out from the mass. All we have to do is let data work for us, let artificial intelligence and machine learning become our ''accomplices in crime''.
In Reccodo we provide a profitable service to e-shop owners to help them boost their sales and introduce a personal and unique online shopping journey to their customers.
We don't just offer a tool. We explore consumer interests and we give you the opportunity to serve your customers like you would do in person. We help you create an engaged clientele that will love to shop from your e-shop!
''A lot of times, people don't know what they want until you show it to them.''

Steve Jobs
Let's work together and explore the benefits of product recommendations for your business.
Afroditi Tsaporoglou
Sales Executive at Reccodo
References:
https://www.lineate.com/technology-insights/3-ways-amazon-uses-ai-to-make-product-recommendations
http://news.mit.edu/2017/better-recommendation-algorithm-1206
https://www.dynamicyield.com/blog/amazon-recommendations/
https://www.amazon.science/the-history-of-amazons-recommendation-algorithm
https://www.linkedin.com/pulse/amazons-recommendation-engine-secret-sauce-mario-gavira/
https://www.cms-connected.com/News-Archive/April-2018/The-ROI-of-Recommendation-Engines
https://martechtoday.com/roi-recommendation-engines-marketing-205787
https://dzone.com/articles/is-it-worth-it-roi-of-recommender-systems
https://emarsys.com/learn/blog/heres-why-you-should-use-a-recommendation-engine-ohad-hecht/